Synthetic and bioactive bone graft substitute
Functional and aesthetic restoration are daily challenges for dental surgeons. The choice of treatment and implants and high performance bone substitutes are the answer to the specificity of clinical cases.
Activioss® granules is indicated in regenerative medicine as a synthetic bioactive bone substitute which comes in the shape of granules. Activioss® granules combines natural biological action and optimum safety for reliable and reproducible results.
Based on innovative technology, Activioss® granules is a bioactive glass 45S5 ceramic composed of silicon, sodium, phosphorous and calcium oxides. All of these elements are naturally present in the human body and are key components in the osteogenesis process. This bioactivity property, marks a new stage in bone regeneration products.
The formulation of Activioss® Granules brings excellent biocompatibility level and drastically reduce the risk of pathogen agents transmission.
Activioss® Granules technology is fully developed in France with local partners to ensure highest quality.
Activioss® Granules offers surgeons and patients optimum safety during implantation for a natural and effective bone restoration, for all indications encountered in their daily practice.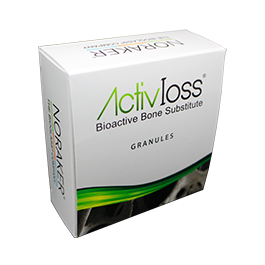 Activioss® Granules, medical device class III, manufactured by Noraker, CE Mark n° (0459). Activioss™ Granules is a biomaterial of bone substitution, indicated in bone defect filling. Read the instructions supplied with the product for complete information.
Indications and recommendations
Activioss® granules, a synthetic and bioactive bone substitute, is indicated for bone substitution, to fill, rebuild and fuse bone defects, when autologous solutions are not applicable or sufficient, pending the regeneration of new bone.
Bone crest augmentation (surgery before and during the implant),
Sinus floor elevation (sinus Lift or Summer's technique),
Infrabony periodontal defects,
Filling of bone lesions of type dental cysts or granulomas,
Volume preservation in the extraction sites.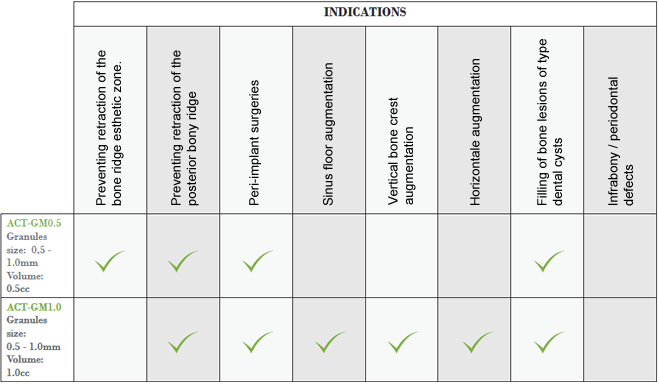 Activioss® Granules has to be mixed normal saline solution, autologous bone, patient blood or PRF (Platelet-Rich Fibrin). In order to enhance the host site vascularization, heighten the host cortical bone walls. When placing the graft material, pack it with a compress moistened by normal saline solution. Excess filling is recommended.